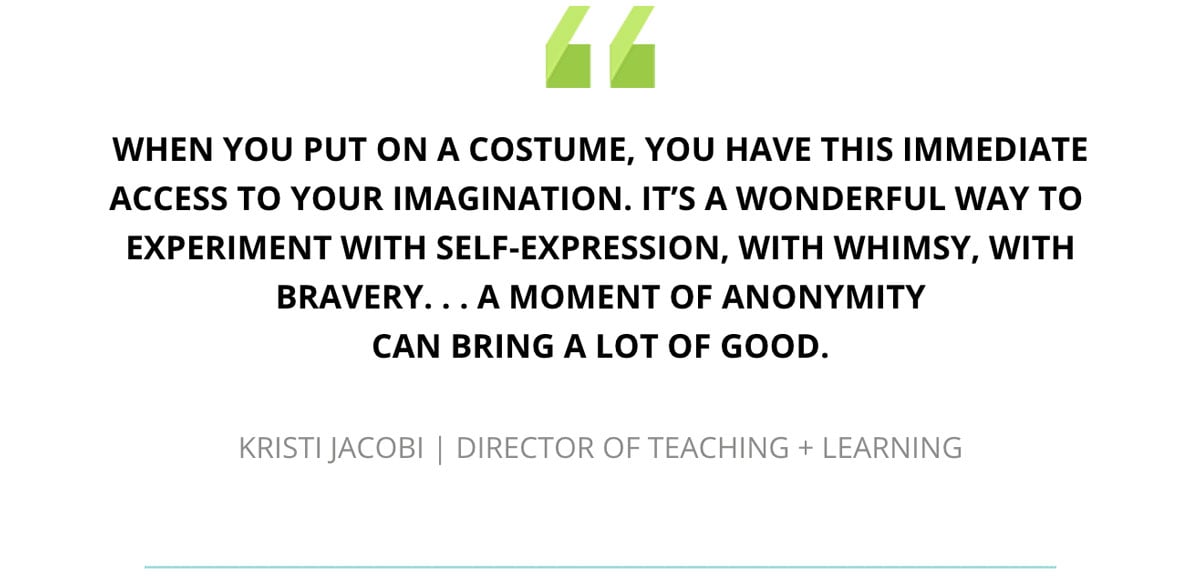 Today is often set aside for the hair-raising and the haunted. We craft spooky carvings and ghoulish displays, tell stories of creatures that lurk in the cobwebbed corners of our minds, and even experiment with the most haunted of them all: the negotiation tactics of which candies to eat right now, which to trade, and which are too precious to swap.
Along with all the creepies and crawlies, Halloween is also the celebration of our imagination and our willingness to suspend our beliefs in honor of play. It's a holiday with a lot going on if you take a moment to really think about it. Because of this, Halloween can reveal interesting features of ourselves especially when it comes to this week's Edventure: costumes.
Every day, the clothes we wear affect a whole bunch of things that we don't actively think about: our behavior, attitudes, personality, mood, confidence, and even the way we interact with others. The genesis of Halloween costumes may date back over 2,000 years; but donning masks and symbolic attire has always been a part of history.
Kristi Jacobi, Director of Teaching and Learning at EXPLO Boston, (and expert costume wearer) has had a lot of experience watching — and participating in — how donning a costume affects our students.
"When you put on a costume, you have this immediate access to your imagination. It's a wonderful way to experiment with self-expression, with whimsy, with bravery. . . A moment of anonymity can bring a lot of good."

Dressing up becomes a way to create and experiment with another version of ourselves. For many people, Halloween becomes an opportunity to arrange ourselves from the inside out — where what we feel, or want to feel, about ourselves can be emulated in the shape of a super hero, a mythical creature, or something from our own imagination. (An EXPLO staff member's daughter is going as Mother Marshmallow this year, and that's certainly not from any storybook we've read).
For Kristi, "When you are young, putting on a costume is easy and exciting. It's an age where we don't often question judgement from others. As we get older, costumes become a bit more intentional, where our character choice often mirrors us in some way or another."
In costume, the person behind the mask has an opportunity to try out another version of themselves with little question.
"Costumes don't have to be elaborate, though. It's the same as that moment when we step into that cycling class wearing certain shoes, or what we wear for road races, the tokens we bring to role playing games. There's an entire industry that plays into this delight, that gives us permission to embrace the chance to be something or someone else for a little bit of time. Definitely embrace it."


Explore books, articles, games, and songs that may encourage you to embrace the magic of a costume: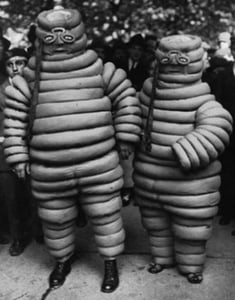 - A ragged curtain, a creaking attic, a dark cellar — there's actually a reason that certain places are universally unsettling for the human psyche
- The strange juxtaposition of ordinary home life and extraordinary costume design makes for beautiful photographs by Klaus Pichler
- To Do: Make Tetris Pumpkins. Check. Behold, Pumpktris!
- Our culture has tried to project an idea of an organized, poised and polished self, as the standard way most people are. School of Life, in their magical ways, let us know that is 100% a costume we wear.
- Pagan spirits and Wonder Woman: A brief history of the Halloween Costume

- From ghoulies, and ghosties, long-legged beasties, and things that go bump in the night... Happy Halloween from EXPLO!


Don't want to miss a future Weekly Edventure? Since carrier pigeons and smoke signals haven't yet made a comeback, we'll take advantage of more modern messaging to ensure it reaches your inbox.