Running shoes and motivation.

According to EXPLO New York Registrar Ariel French, these two things are all you need to transform yourself from a non-runner to a runner. You don't need to have a sub-8-minute mile or sign up for a race — although Ariel has competed in roughly 215 in her lifetime (including 2 full marathons) — or even find yourself out on the trails every day. It really is as simple as: Running shoes? Check. Motivation? Check. Congratulations — you are a runner!

Undoubtedly, the motivation piece can be challenging. For runners at all levels, the challenge is reminding yourself why you do it — and why you shouldn't stop. Find a reason to run. By practicing reflection and reminding yourself of that "why", you can reconstruct your mindset. It transforms someone who once saw running as an obligation into one that not only commands, but craves the experience of putting one foot in front of the other.

It also means the moments our bodies are screaming at our brains things like, "This hurts! I'm not having any fun! I'm bored! Let's just try tomorrow!", simply become conversation pieces. We experience and feel it, but it doesn't mean we have to respond to it by slowing down. Instead, we have an opportunity to practice reading signals — deciding when to dedicate, self-sacrifice, manage time, and talk to ourselves with grace. And it's great practice when contributing to work, life projects, and friendships.

Motivation to run has the power to turn the inevitable challenge into celebration. To celebrate the kindness of your knees, the burning in your lungs, the monotonous pounding in harmony with your thoughts. Today, tomorrow, next week — whatever your reason to run is, lace up your shoes. Step outside. Go for a run. You can be a runner after all.


Explore books, articles, games, and songs that may encourage you to find your purpose to run: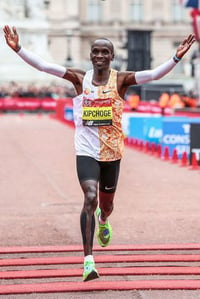 - "The rules are simple: I put the self-timer on 2 seconds, push the button and try to run as fast and as far from the camera as I can." Now this is our kind of art.

- This National Geographic Video explains why it's nearly impossible to run a marathon in under two hours... Two years later, *Eliud Kipchoge: Uh, hold my water please*
- Is Chess a sport or a game? A professor of philosophy at King's College uses theorists throughout history to argue the very inherent — and philosophical — difference between the two.
- Looking to train? Here is the most beautifully designed jump rope we have ever seen
- "A lot of what makes life worth living isn't to do with great, heroic or costly things, but with modest pleasures that are all around us, largely unnoticed, available for almost nothing" A book of Small Pleasures reminds us of the importance of low-threat hobbies
- Runner's World's list of environmentally friendly running gear brands you might not have heard of
- If, no matter how many times you've tried, running just isn't your thing: 18 obscure sports that are well worth rooting for


- An intimate look at writing, running, and the incredible way they intersect, from the incomparable, bestselling (usually fantasy!) author Haruki Murakami: What I Talk About When I Talk About Running





- Course: Immerse yourself in the world of sports journalism by covering live broadcasted athletic events on and around campus in Sports Reporting + Broadcast Media (grades 8-10)
- Weekend Trip: Release endorphins and develop the confidence to tackle just about anything after summiting a peak at Blue Hills Reservation (grades 4-7)
- Elective: Designed specifically to increase power, agility, and speed, Plyometrics + Speed Training will shape the essential skills and muscles any great athlete needs (grades 10-12).
-Morning Club: Wake up with the sun at a speed that's comfortable for you in recreational Morning Running Club (grades 8-10, 10-12)
Note: Courses, electives, and trips are subject to change for summer 2020


Don't want to miss a future Weekly Edventure? Since carrier pigeons and smoke signals haven't yet made a comeback, we'll take advantage of more modern messaging to ensure it reaches your inbox.
Stephanie LaMont + Adam French