At EXPLO, we like to say that when you come to EXPLO, you also come to Yale. But what does that mean for our students? Of course it's a wonderful opportunity to experience what it means to live and learn on the campus of one of the finest universities in the world. But beyond the prestige, the stained-glass windows, and the gargoyles (just look up!), Yale is rich in culture, history, and hospitality — and EXPLO at Yale students get to experience it firsthand.
Learn How Beinecke Library Stacks Up
How does sunlight enter a building with no windows? Through 1/4-inch thick light-filtering marble panes, naturally.
After two years under renovation, the famous Beinecke Rare Book Library has finally reopened! If you haven't seen it, it's absolutely worth exploring during afternoon Open Time, even just to witness the way the interior of the windowless building is illuminated while also protecting the rare books. Other notable finds at Beinecke include:
Original papyrus manuscripts of Homer's Illiad
An original Gutenberg Bible (the first Western book printed on a movable press)
83 various Lewis and Clark maps from their ventures across the American Frontier between 1804 and 1806
Original artwork of Langston Hughes

Make History at Commons
The famous Yale Commons at Schwartzman Center, the largest of Yale's dining halls and founded in 1901, will close its doors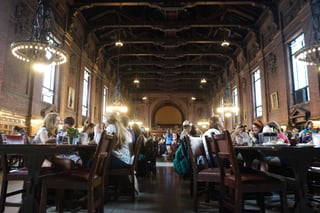 forever just after we leave in August. EXPLO at Yale students will be the final group ever to eat at Yale Commons, as the space will undergo major renovation and be transformed into a new Yale student life center by 2020. Famous folks who have dined at Commons include:
President William Howard Taft

Bush family patriarch Prescott Bush

Author Lewis Sinclair

Time magazine co-founder Henry Luce
But, it's not just making history there we're excited about, it's the delicious food too! In 2016 alone, Yale Dining won the Gold Plate from the International Foodservice Manufacturers Association, the Gold Medal from the American Culinary Federation, and was again given an "A" Vegan Friendly rating from PETA2.
See a Monet Up Close (But Take a Few Steps Back)
In case you missed it, Yale is home to 10 (you read that correctly) museums and galleries.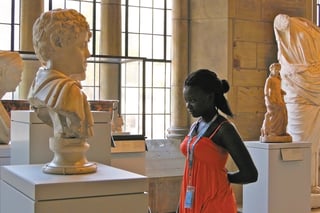 A few of our favorites are the Peabody Museum of Natural History, the Yale Center for British Art (featuring the largest collection of British work outside of the U.K.), and the Yale University Art Gallery.
There you'll find:

Picasso's Seated Woman
Monet's The Artist's Garden in Giverny

Original works by Georges Seurat

Van Gogh's The Night

Café

Traveling exhibitions
All of these incredible artists, historical and emerging, are just steps away from where we sleep, study, and socialize on campus.
---
Your turn, EXPLO at Yale alums! There's so much to do on the Yale Campus and surrounding New Haven area (far more than we've listed here). We want to know: what was your favorite "Only at Yale" feature to take advantage of?