This holiday season, we're sharing our favorite gift ideas for kids (and adults) of all ages. We hope you enjoy checking out all the books, gadgets, and gifts listed below — and share the love of discovery and exploration with your loved ones. Happy Holidays!
DIY Maker Kits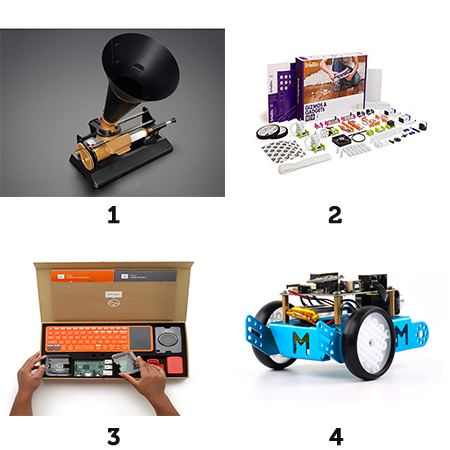 On this budding technophile's list: An Edison-invented phonograph that records sound on wax (and plays it back); a treasure trove of buildable circuits, gadgets, and gizmos that will light up your (or someone's) day; a build-it-themselves computer and coding kit designed just for bright, inquisitive kids; and the really fun (and educational) mBot kit that combines programming, robotics, and electronics into one creative and awesome maker experience.
1. Edison Wax Cylinder Phonograph Kit by Gakken — $54.95
2. littleBits Electronics Gizmos & Gadgets Kit — $199.95
3. Kano Computer Kit — $149.99 (now on sale for $99.99!)
4. Makeblock mBot Educational Robot Kit — $94.99
---
The Future is Now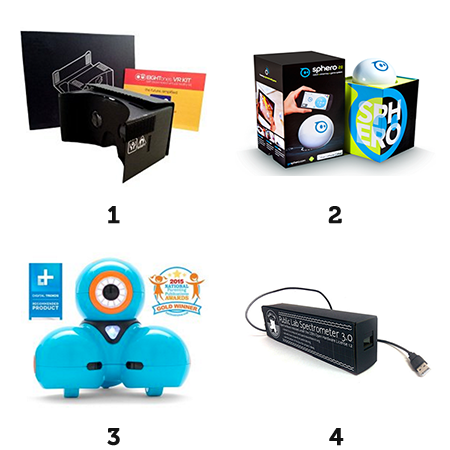 Have you stepped into virtual reality yet? The Original VR Kit is an easy-to-assemble way to enter into that alternate universe (we suggest pairing it with The New York Times'VR app). For techies: the Sphere, an app-enabled robot ball that can spin, roll, and glow, and the Dash Robot, a child's first robot pet, bring the world of tech to life. And for budding environmentalists: the DIY Spectrometry Kit lets you find out just what might be lurking in your atmosphere.
1. EightOnes VR Kit: The Complete Google Cardboard Kit — $16.99
2. Sphere 2.0 Robot — $129.99
3. Wonder Workshop: The Dash Robot — $149.99
4. DIY Desktop Spectrometry Kit — $45.99
---
Illustrated Books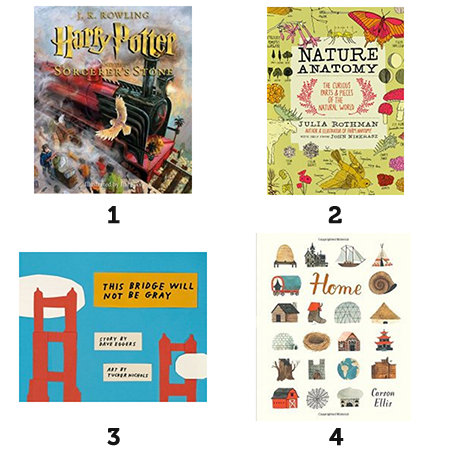 Harry Potter is an instant classic. Jim Kay's rich and stunning illustrations elevate it to a work of art. Another gifted illustrator is Julia Rothman, who brings nature to whimsical life with her book, Nature Anatomy. Coupled with illustrations by Tucker Nichols, Dave Eggers's book, This Bridge Will Not Be Gray, tells a story of grit and perseverance, or, how the Golden Gate Bridge became orange. Home, a meditative, immersive book written and illustrated by Carson Ellis, invites you to ponder on the concept of home and what it means to you.
1. Harry Potter and the Sorcerer's Stone: The Illustrated Edition — $23.99
2. Nature Anatomy: The Curious Parts and Pieces of the Natural World — $11.97
3. This Bridge Will Not Be Gray — $14.00
4. Home — $94.99
---
Books for Creative Expression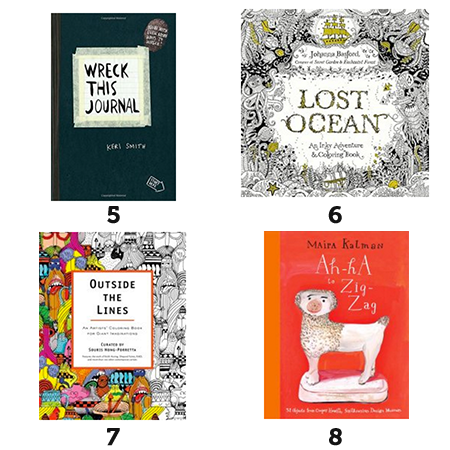 Usually when books are this pretty, you want to keep any pens, pencils, or marking instruments far, far away. Not so here. These books invite you to imagine, create, draw, write, and most of all, play. So go ahead, draw outside the lines, paint a giant squid, wreak (good) havoc on your journal, and find artistic inspiration (as envisioned by Maira Kalman), from A to Z.
1. Wreck This Journal, Expanded Edition — $8.49
2. Lost Ocean: An Inky Adventure and Coloring Book — $10.17
3. Outside the Lines: An Artists' Coloring Book for Giant Imaginations — $13.35
4. Ah-Ha to Zig-Zag: 31 Objects from Cooper Hewitt, Smithsonian Design Museum — $13.39
---
You Can Make Anything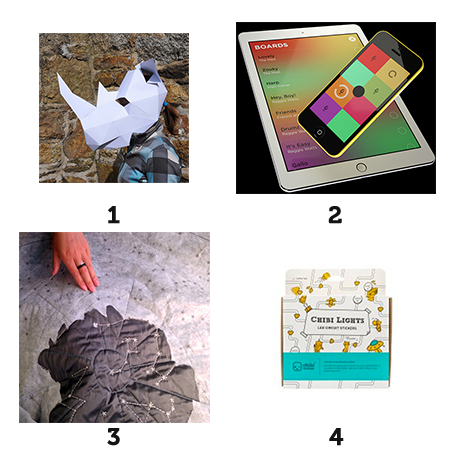 Okay, admit it: who among us hasn't wanted, at least once, to become a rhino? With this DIY mask, it can happen for under $7. (And if rhinos aren't your thing, Wintercroft features many other mask designs as well). With the Keezy app, you can make music and mix sound from just about anything, starting with prerecorded sounds and tracks that you can build on with anything you wish to record. For those nights when you want to lay back and look up at the stars, why not do so while snuggled under a blanket of hand-sewn constellations? And Chibi Lights are a fun way for young learners to experiment with circuits and electronics.
1. Rhino Mask — $6.83
2. Keezy Music App (iOS) — FREE
3. DIY Constellation Quilt — $38.00
4. Chibitronics Chibi Lights STEM Starter Kit — $30.00
---
The Art Studio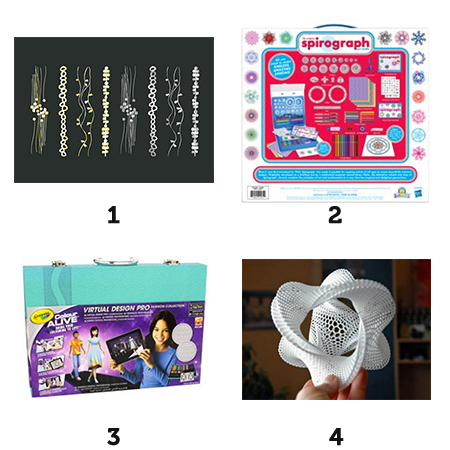 Don your temporary gold and silver arm candy (thank you, Tattly!), draw beautiful spirograph scenes with the Art Studio kit, break open your Crayola Virtual Design Pro-Fashion Set to create designs and looks that are runway ready, and maybe even get one of your designs 3D printed from the Shapeways Printing Marketplace using 3D printing apps and software.
1. Tattly Brilliant Bracelet Set — $18.00
2. Spirograph Art Studio Set — $34.04
3. Crayola Virtual Design Pro-Fashion Set — $32.95
4. Shapeways 3D Printing Marketplace — Prices Vary
---
Mind Games
For young magicians, mastering illusions is key. Big Magic for Little Hands give kids the skills they need to master the sleight of hand. Learning algebra may not be every student's idea of a fun holiday activity, but playing the Dragonbox apps — where students learn math skills, algebra, and geometry through fun-to-play games — will be. Abalone may look like a straightforward strategy board game from the outset, but the more you play, the more you'll see what a true test of wills, focus, and skill it is. And young sleuths and scientists will love soaking up all the tricks of the trade in Spy Science.
1. Big Magic for Little Hands: 25 Astounding Illusions for Young Magicians — $13.27
2. DragonBox+ App (iOS) — $4.99
3. Abalone, by FoxMind Games — $18.03
4. Spy Science: 40 Secret-Sleuthing, Code-Cracking, Spy-Catching Activities for Kids — $11.34
---
How Things Work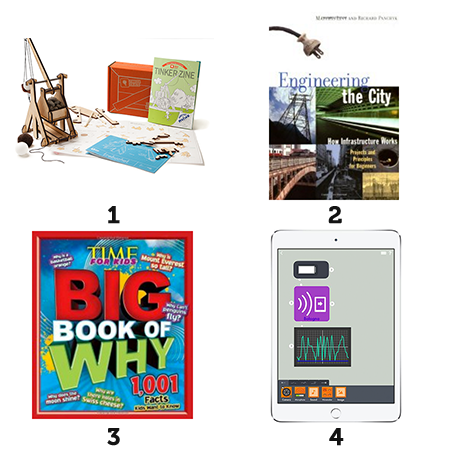 We all have questions. Here are some fun ways to get some answers — or at least get closer to finding them. The Big Book of Why provides a panoply of facts for inquiring minds, and Engineering the City breaks down how cities actually function (with projects to test those theories out). The Everything Machine is a captivating way for young kids to learn how many things work, from light switches to drum machines and even yellow dinosaurs. And Tinkercrate subscriptions are a marvelous way to build new things — from trebuchets to zoetropes — and experiment with science and engineering.
1. Monthly Subscriptions to Tinkercrate — Prices Vary
2. Engineering the City: How Infrastructure Works, Projects and Principles for Beginners — $13.56
3. The Big Book of Why: 1001 Facts Kids Want to Know — $12.32
4. The Everything Machine App (iOS) — $2.99
---
The Gift of Beautiful Things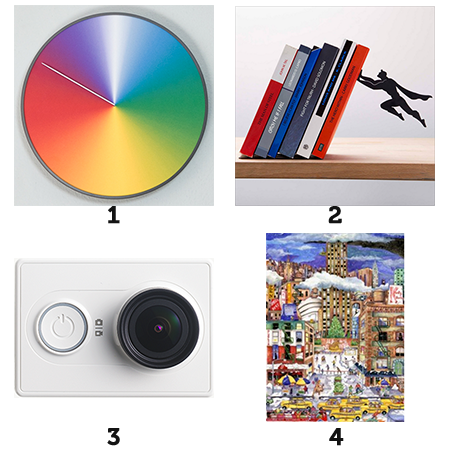 From finely-crafted wooden jigsaw Liberty puzzles to a flying, superheroic bookshelf, sometimes the best gifts are the ones where function and form are one. The Xiaomi Yi camera, reminiscient of a GoPro (at a fraction of the price), is the perfect camera for kids: relatively inexpensive yet packing a wallop in terms of speed and image quality. And the Present, a 365 day clock, is as beautiful and ephemeral as a rainbow on the wall. You notice its colors and beauty, but not the passage of time, giving you (or the clock's recipient) the chance to revel in the moment and take that moment to enjoy the present.
1. The Present: A 365 Day Clock — $180.00
2. Book Hero — $25.00
3. Xiaomi Yi Camera — $65.00
4. Liberty Puzzle: Light Snowfall in New York — $155.00
---
If you purchase a product through one of the Amazon links listed above, Explo will receive a small percentage of the sale price. It's just a small way to send a little something back to us, without spending a cent more than you would otherwise. So from us to you, thank you! We hope you have a wonderful holiday season!!
---
Subscribe to Our Newsletter