Ask any of our alums and they will tell you that when you come to EXPLO, you immediately become part of an extended family of curious individuals that you can call on throughout your life's explorations. We are a vast network, in many ways more connected and expansive than any other school or organization you encounter.
EXPLO is known for being an unstuffy and unpretentious place. It's a community where students are made to feel outstanding and that they have extraordinary potential — because we truly believe that they do. The culture on each of our campuses is warm and welcoming, and everyone is on equal footing. At EXPLO, students recognize and celebrate each other's talents; this is not a place where you'll find students comparing grade point averages, test scores, or IQs.
---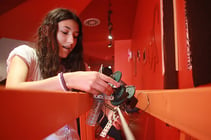 In many cases, alumni attribute the seeds of their academic explorations and career paths to EXPLO. At a recent Women in STEM event at the Boston Museum of Science, multiple graduate students from area universities — including MIT and Harvard — regaled EXPLO Executive Director Moira Kelly with stories that their first biology, epidemiology, or computer science courses were during their summers at EXPLO.
---
It's the informality and nurturing environment we create at EXPLO that allows students to thrive and pursue their passions and strengths with confidence — all the while making friendships and connections that support them far past the summer. Who knows what you, your roommate, or your classmates may go on to do? Whatever you choose to pursue, as an EXPLO alum you'll be in good company. Here are just a few former EXPLO students who have gone on to become real world game changers.
Noam Angrist, Rhodes Scholar
Alexia Armstrong, Cole Cooper, Amber Yidizel, Co-Founders,
Young Diplomacy
Greg Becker, Songwriter, Southern Crossroads Music
Sara Gilbert, Actress + Co-host/Creator of The Talk
Alex Koren, Entrepreneur + Thiel Fellowship Winner
Doug Liman, Producer + Director, Jason Bourne film franchise,
Mr. & Mrs. Smith
Jonathan London, Director/Screenwriter/Producer/Host, Geekscape
Andrew Marantz, Contributor + Editorial Staff, The New Yorker
Seth Priebatsch, Creator + CEO, SCVNGR and Level Up
Gideon Rose, Editor of Foreign Affairs + Council on Foreign
Relations Member
Ned Sahin, Neuroscientist + CEO of Brainpower; Harvard University Dissertation of the Year Winner
Ellen Siminoff, Entrepreneur + Investor; Forbes Master of Information
Kevin Systrom, Co-founder + CEO, Instagram
George Whitesides, CEO,Virgin Galactic + The Spaceship Company
Marissa Wu (and other Explo alums), Co-founders, LIME
Magazine for Girls
"Developing problem solving skills, being able to think and speak on your feet — these are some of the things that I experienced at EXPLO and they are the things that will make you nimble and adaptable."

— Amanda Gutterman, Journalist + Entrepreneur, 
Forbes "30 Under 30" Winner
Influencers: The Forbes '30 Under 30' Winners
Few organizations can say that their alumni are consistently named to the Forbes magazine 30 Under 30 list. In just the past few years, more than 20 EXPLO alumni have earned the honor for their work as researchers, CEOs, entrepreneurs, and more. These innovative individuals are developing vaccines to end HIV/AIDS; creating technology to optimize the oil and gas industry; reducing cyber threats; and bringing light solutions to devastated areas, enhancing the safety of displaced residents. Among them are:
Adam Belanich, Co-founder, Joyride Coffee
Ian Cinnamon, Director of Strategy, The Immunity Project
Gayatri Datar, Social Entrepreneur + Earth Enable Co-founder
Kendall Debaghi, Co-founder, A Plus
Caitlin Donovan, Associate Vice President, Christie's
Jessica Gartner, Founder + CEO, Allovue
Mark Gurman, Senior Editor, 9to5Mac
Amanda Gutterman, Co-founder, Slant
Eran Hodis, Harvard/MIT Cancer Researcher
Jay Kaplan, Co-founder, Synack
Isabelle Kenyon, Burch Creative Capital
Dan Kimerling, Co-founder, Standard Treasury
Sarah Law, Founder + CEO, KARA Handbags
Max Mankin, Co-founder, Modern Electron
Candace Mitchell, Co-founder, Techturized, Inc.
Eli Nagler, Blackstone Group
Joan Payson, Wall Street Consumer/Retail Analyst
Kate Wheatcroft, Co-owner, Bien Cuit Bakery
Dakin Sloss, Founder, Tachyus Gas + Oil Technologies
Gemma Sole, Co-founder, Nineteenth Amendment
Anna Stork, Social Entrepreneur +LuminAid Co-founder


Subscribe to Our Newsletter