When EXPLO and Wheaton College began to consider building a new Focus program for young women interested in STEM research and careers, one thing was for sure:
"The facilities are just outstanding," says EXPLO Executive Director and President Moira Kelly. "The Mars Science and Technology Center is truly something that you would find only at a top-tier research university. But here it is, in our own backyard at Wheaton College."
A Summer Home to Bioengineering for Girls
Opened in September 2011, the Mars Center for Science and Technology will become the summer home to Bioengineering for Girls, a transdisciplinary program in bioengineering and medicine for young women entering grades 9 through 11. For two weeks, the students will explore emerging and innovative careers on the leading edge of science, visit industry-leading labs and meet with professionals in the Boston area, as well as gain hands-on experience under the guidance of Assistant Professor of Biology Laura Ekstrom.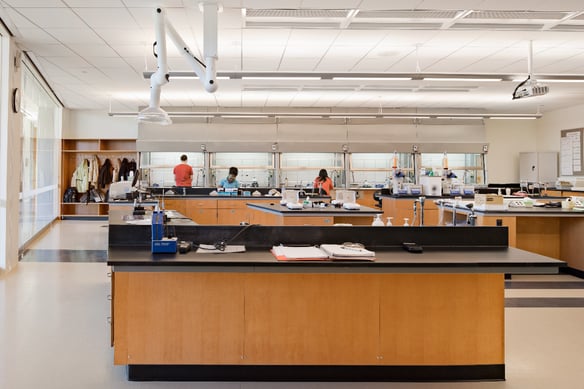 Tools for the Future of Science
The Center was designed to mirror the future of science — collaborative, transdisciplinary, and creative. It features glass partitions dividing the Center's 23 research labs and 12 teaching labs (you'll find no auditorium-style lecture halls here), multiuse labs to encourage cross-disciplinary study, group study spaces, and a café. Among its remarkable features are:
The Imaging Center for Undergraduate Collaboration (ICUC), a state-of-the-art digital imaging laboratory outfitted with cameras and microscopes that are linked to new Apple computers and networked to telescopes, printers, scanners, servers, and drones. Here, students can analyze digital images of diverse subjects from single cells to whole star systems, making new discoveries and creating new knowledge from visual information of all types.



A 1,200-square-foot

rooftop greenhouse

dedicated to the research and exhibition of plant species from all climates. An attached weather station monitors external conditions and adjusts internal ones to ensure the health of the plants in each of the four individual greenhouses.





A USDA-sanctioned

Animal Research Facility

that not only houses a collection of animals including fish, birds, rodents, turtles, amphibians and invertebrates, but also is equipped to support sterile surgery of mammals — a feature rarely found at a liberal arts college and typically reserved for facilities at R1 universities.





The

WHALE Lab

, a makerspace developed specifically for collaborative interdisciplinary research. Think: mobile robot platforms, a 3D printer, hundreds of LEDs, 17-gauge electric fence wire, conductive thread, and an embroidery machine (and that's just the beginning).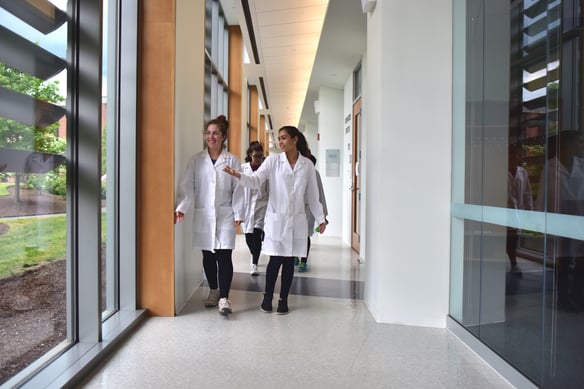 A Launchpad to Area Innovation Hubs
The Mars Center is the homebase for students enrolled in the Bioengineering for Girls program — an accessible and unrivaled launchpad as they undertake hands-on research and travel to labs and simulation centers in Boston and surrounding areas (a major innovation hub for biomedical and bioengineering research and development within arm's reach of Wheaton's campus in Norton, Massachusetts).