On Explo Live, you'll discover slideshows, videos, student conversations, and quotes from all three of our campuses, letting you catch a glimpse of just how much our students do in a day — and how much fun they have doing it. Below, we'll break down the basics of Explo Live, so you can tailor your experience in the way that works best for you.
At the very top of the left-hand column, you'll notice three things: a link titled, "Explo Live Blog," a second link titled, "Contacting Students," and a third link titled, "Student Email Form." When you click on the first, you'll be brought to the top of the Explo Live blog feed, regardless of how far back into the blog feed you've traveled.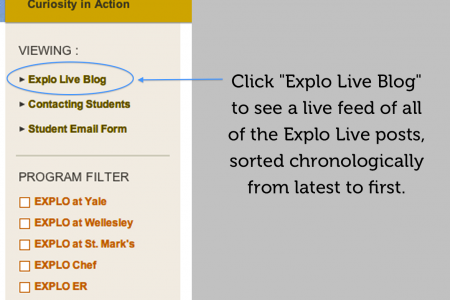 By clicking the second link, "Contacting Students," you'll be able to select your child's specific campus and read the instructions on how to contact your child. The third link is meant for the parents and family members of residential students only. It will take you directly to a form, where you'll be able to send your child a quick message that we will print and deiiver during living group meetings each afternoon.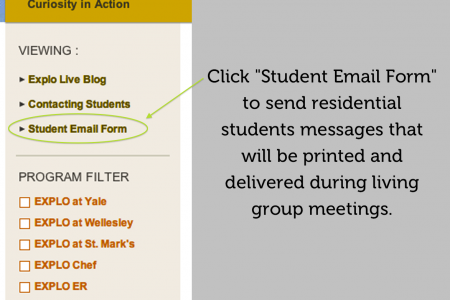 In the right-hand column at the very top, you'll find links to each campus's Daily Atlas, which is like the campus newsletter, listing each day's activities, main event, and other fun things happening around campus. Students receive a copy at the start of each new day, so they know what awaits them and can plan their day (and their fun!) accordingly. You may access the Daily Atlas as soon as it's published online, simply by clicking the correct link: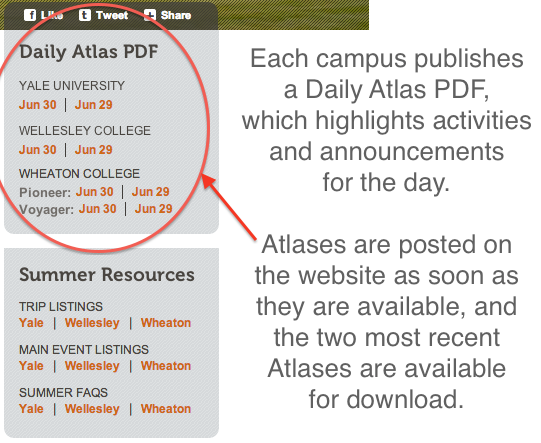 Now, let's say you're the parent of one student at Explo at Yale, and another at Explo at Wellesley, so you're most interested in seeing the content feeds from those two campuses. On the lefthand side of your screen, you'll see a list of all of our programs under the heading, "Subject Filter." Simply check the boxes for Explo at Yale and Explo at Wellesley, and you're now seeing content exclusively from those two programs.
If you see a photo that you'd like to download, print, or even share on Facebook or Twitter, here's how to make that happen: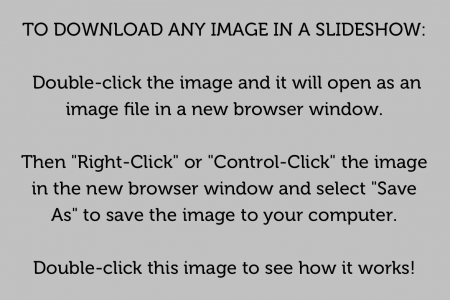 Hope this guide helps! If you have any questions, please feel free to send an email to webmaster@explo.org, and we'll get back to you just as soon as we can. It's going to be an incredible summer — we can't wait to get started!