Stories: they're what shape us, elevate us, and make us who we are. And this Thanksgiving, you'll have the chance to join storytellers (and collectors) from across the country and around the world to record your story — or your mom's, dad's, sibling's, or relative's story — and share it with the world. All it takes is downloading an app and pressing record. We'll break it down below.
Record Your History: Interview an Elder + Preserve Your Past
This Thanksgiving, StoryCorps — the NPR phenomenon that launched a fleet of rolling recording booths to cities and towns across the U.S. — is teaming up with high school students from around America for The Great Thanksgiving Listen, a program created to "preserve the voices and stories of an entire generation of Americans over a single holiday weekend." Over the course of Thanksgiving weekend, teenagers and young adults are invited to interview a parent, grandparent, or other relative or friend and upload it to StoryCorps' online archive.
Known for recording some of the most moving oral histories of contemporary Americans — including "John and Joe," the story of a firefighter who lost both sons on 9/11, and "Miss Devine," where two siblings recount the travails of surviving their Sunday school teacher — StoryCorps is opening the floor to everyone, with perhaps their most ingenious tool of all: the StoryCorps app.
"Help Create an Archive of the Wisdom of Humanity"
Here's how it works: Download the the StoryCorps app to your Android or iOS smartphone, choose someone (your grandma, dad, or friend) you've always wanted to interview, find a quiet place to sit, press record, the save and share your story with the world. As StoryCorps says on its site, "Help create an archive of the wisdom of humanity."
---
For Educators:
The Great Thanksgiving Listen Teacher Toolkit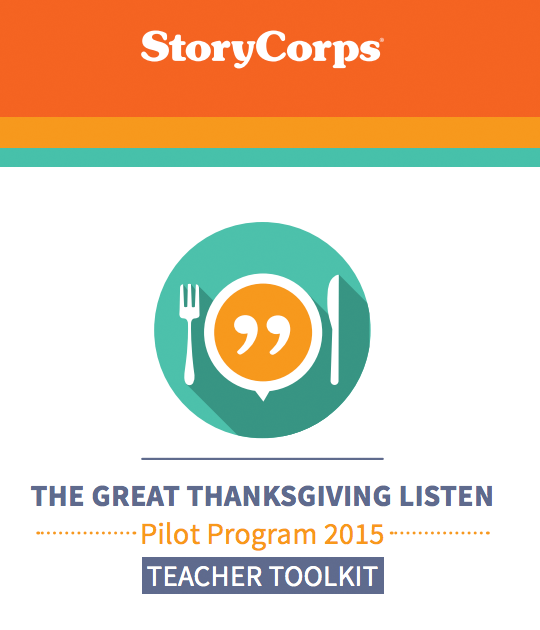 "This Thanksgiving weekend, StoryCorps will work with teachers and high school students across the country to preserve the voices and stories of an entire generation of Americans over a single holiday weekend."
"Open to everyone, The Great Thanksgiving Listen is a national assignment to engage people of all ages in the act of listening. The pilot project is specially designed for students ages 13 and over and as part of a social studies, history, civics, government, journalism, or political science class, or as an extracurricular activity. All that is needed to participate is a smartphone and the StoryCorps mobile app."
Visit The Great Thanksgiving Listen for more information on how you can get your class or school involved.
---