They call it Vacationland — and it has earned the title
Here at EXPLO, we're thrilled to be hosting our Pre-College + Career program at the picturesque Colby College campus. If you're dropping your high schooler off for their summer session, why not stay and enjoy a mini (or full-size) vacation?

You could stay close by — Colby College is located in the Kennebec River Valley, where there's no shortage of sights to see and things to do — but there's much more to explore within an hour or two's drive from campus. Below are some gems you might want to check out while you're in Vacationland.
For the outdoor adventurer
From stunning summits to stretches of rocky coastline, Maine has no shortage of natural splendor to enjoy. Hiking, biking, boating, and so much more await you. Here are a few of our favorite spots and activities:
Acadia National Park
Come explore the "Crown Jewel of the North Atlantic Coast." Acadia is one of the top 10 most-visited national parks in the United States, and it's no wonder — it boasts the highest rocky headlands along the Atlantic coastline of the United States, a myriad of flora and fauna, and rich cultural heritage. You can even be the first to see the sunrise in the continental United States from the summit of Cadillac Mountain.
Address: 25 Visitor Center Road, Hulls Cove Visitor Center, Bar Harbor, ME 04609
Distance from Colby College: 1 hr 50 min (100.0 mi) via I-95 N
Moose Tours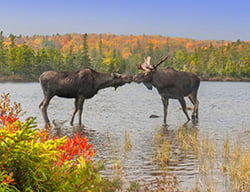 Those moose crossing signs aren't just for decoration — state biologists estimate theMaine moose population to be around 75,000. That's the largest concentration of moose in the country after Alaska! To see a Maine moose in its natural habitat (and get the pictures to prove it), Northeast Whitewater offers guided moose-watching tours by canoe or by van.
Address: Northeast Whitewater, 155 Greenville Road, Shirley Mills, Maine 04485
Distance from Colby College: 1 hr 28 min (74.0 miles) via I-95 N
Belgrade Lakes
The Belgrade Lakes are a chain of seven lakes and ponds in Central Maine that are perfect for boating, fishing, swimming, and more. At over 8,000 acres, Great Pond is the biggest — but each body of water is equally inviting on a warm summer day.
Location: Belgrade, Kennebec Valley Region, Maine
Distance from Colby College: 24 min (16.6 mi) via ME-11 S and ME-27 N
For the foodies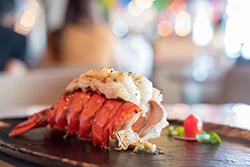 Maine is often known as being the spot for homemade ice cream — like at Gifford's — and epically fresh, melt-in-your-mouth lobster — like from Portland Lobster Co. — but did you know there are a plethora of fine dining (and snacking) options around the Pine Tree State as well? Check out these renowned restaurants and local favorites:
In Portland
Ever heard of a non-denominational noodle bar? You have now! The Honey Paw, which is just as warm and welcoming as the name suggests, serves up (and celebrates) noodle dishes from around the globe. The floor-to-ceiling windows open up to the patio on Middle Street while the record player spins eclectic tunes to match the menu. It's bustling and buzzy, but effortlessly cool.
If that doesn't sound like your cup of tea, Fore Street has been a multi-award-winning Portland institution since 1996. Overlooking the historic Old Port, the brick walls, wood beams, and high ceilings combine a modern warehouse feel with the historic charm of the area. Come here for ridiculously fresh oysters and locally farmed and foraged fruit, vegetables, and herbs.
Outside of Idaho, Maine is known for its potatoes. The white russet is the state's number one crop. Why not stop into The Holy Donut and satisfy your sweet tooth with a Maine Potato Donut? This local bakery has quickly risen to the top of the crop, using locally sourced ingredients for their handcrafted treats that combine the fluffiness of a beignet with the moist richness of cake. Bon Appetit hails a visit to The Holy Donut as worth the trip to Portland in and of itself.
Distance from Colby College: 1 hr 7 min (73.2 mi) via I-95 S and I-295 S
In Kennebunk
The White Barn Inn Restaurant embodies fine dining in the Kennebunks. Sway to the sounds of a tinkling piano player while indulging in modern takes on classic New England fare. Perfect for special occasions and celebrations.
For comfort food from the other side of the pond, Chez Rosa is a French Bistro owned by local husband and wife team Chef Kyle Robinson and Yazmin Saraya Jean. The cuisine is influenced by local seafood, farms, and pastures. With all the charm of an intimate bistro, there's also a lovely patio and even weekend brunch!
Distance from Colby College: 1 hr 32 min (99.0 mi) via I-295 S and I-95 S
Is your mouth watering yet? Maine has plenty more delectable food destinations — check out the Food Network's recommendations.
For the history buff
Have you ever heard of Maine being known as The Old Dirigo State? The state motto of Maine is Dīrigō (Latin for "I direct" or "I lead"). Maine entered the Union on March 15, 1820, and was once the only state to hold its elections in September. Prior to the New Deal, Republicans claimed "As Maine goes, so goes the nation." Eugene Zieber's 1909 book, "Heraldry in America," further explains the meaning behind the motto:
"...as the Polar Star has been considered the mariner's guide and director in conducting the ship over the pathless ocean to the desired haven, and as the center of magnetic attraction; as it has been figuratively used to denote the point, to which all affections turn, and as it is here intended to represent the State, it may be considered the citizens' guide, and the object to which the patriot's best exertions should be directed."
If you love history as much as we do, explore these gems:
Maine Maritime Museum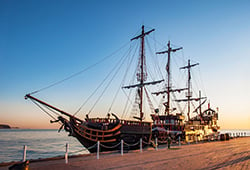 The Maine Maritime Museum spans a 20-acre campus on the banks of the Kennebec River in Bath, Maine: "The City of Ships." Explore the United States' only surviving shipyard to see where large wooden sailing vessels were once built. There are even daily cruises that offer tours of Maine's most iconic lighthouses from the water.
Address: 243 Washington Street, Bath, ME 04530
Distance from Colby College: 1 hr (59.1 mi) via I-95 S and I-295 S
The Wadsworth-Longfellow House
The Wadsworth-Longfellow House, the childhood home of famous American poet Henry Wadsworth Longfellow, is the oldest standing structure on the Portland peninsula. Virtually all of the household items and artifacts are original to the Wadsworth and Longfellow families!
Address: 489 Congress St, Portland, ME 04101Distance from Colby College: 1 hr 9 min (73.5 miles) via I-95 S and I-295 S
For the leisure lover
After a long car ride, you might be looking for relaxation over whitewater rapids. Fancy a round of golf? A day of sunbathing? Shopping 'til you drop? Maine has got you covered for that, too.
Camden Beaches
The beaches in the idyllic seaside town of Camden offer a quiet and picturesque escape from the hustle and bustle of Old Orchard Beach. The water is crystal clear and full of sea-life.
Distance from Colby College: 1 hr 8 min (51.7 miles) via ME-3 E
Waterville Country Club
Waterville Country Club is a member-owned, semi-private golf course tucked in the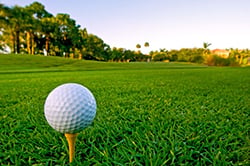 hills of Oakland, Maine. Designed by golf course architect Geoffrey St John Cornish, Waterville Country Club's 18 holes offer enjoyment for golfers of all skill levels. The facility also includes a pro-shop, restaurant, two putting greens, and a practice range.
Address: 39 Country Club Road Oakland, Maine 04963
Distance from Colby College: 5 min (2.3 mi) via Washington St and ME-11 S/ME-137 W/Kennedy Memorial Dr
Freeport Outlets
The Freeport Outlets are home to the legendary outdoor outfitter, L.L.Bean, in addition to dozens of national outlets and locally owned boutiques. Find clothing, artwork, handmade jewelry, home décor, and so much more.
Address: 1 Hummingbird Ln, Freeport, ME 04032
Distance from Colby College: 53 min (57.1 miles) via I-95 S and I-295 S
Make your stay the Maine event
It would be impossible to list everything Maine has to offer here, but we promise, we're just scratching the surface. You may be dropping your child off for a summer of exploration, but you're a natural-born explorer, too. So don't rush home — there's no better time or place to create your own adventure while your high schooler embarks on theirs.
No time to stay? You can still enjoy Maine for a day. Check out these day trip ideas.
Subscribe to Our Newsletter