Dr. Andrew Eyre currently serves as the Medical Director for the STRATUS Center for Medical Simulation at Brigham and Women's Hospital — a world leader in transforming patient safety and care through innovative simulation education, research, assessment, and quality improvement — in Boston, Massachusetts, where he also specializes in emergency medicine.
In his early medical training, simulation was a valuable tool for Dr. Eyre; it helped him to garner valuable muscle memory, which has allowed him to move through the myriad tasks required of medical doctors with precision and confidence.
Dr. Eyre is no stranger to the EXPLO classroom — he worked as a staff member for three summers, teaching courses in dissection and EMT training. He also stepped in as an advisor for our Junior Focus program, Emergency Medicine. In more recent years, he's helped craft EXPLO curriculum, led students in hands-on simulations, and coordinated student trips to the STRATUS Center.
His career in medicine has taken him from the University of Vermont College of Medicine to the Harvard Affiliated Emergency Medicine Residency and, presently, Brigham and Women's Hospital. All along the way, he's been driven by questions about how we learn best, the value of safe spaces for mistake-making, the power of hands-on learning, and how we can do better work by valuing the ways we interact and communicate with one another.
Read on to hear his EXPLO roots and reflections on his journey so far.
Tell me a little bit about your history at EXPLO. How did it all begin?
The first time I heard about EXPLO was through my oldest brother. I have two older brothers, both of whom were EXPLO staff members — so I started to learn about it when I was pretty young. Then, as I was in college and looking for summer opportunities and ways to think about career experiences, I found myself applying for a job at EXPLO. I was a teacher and advisor, then a member of the Dean's Office for two summers.
After that first summer as an instructor, what brought you back?
Being connected to so many amazing staff members who all came from these different backgrounds, had these different ideas, and were truly interested in being a part of this amazing organization and team. That was one part.
And you could also see how much students benefited from the environment, especially if they didn't necessarily fit in at their schools. Being a part of an environment that fostered learning just for the fun and love of education, seeing kids experiment and try new avenues they hadn't experienced before — all of this just felt like a really exciting place to be.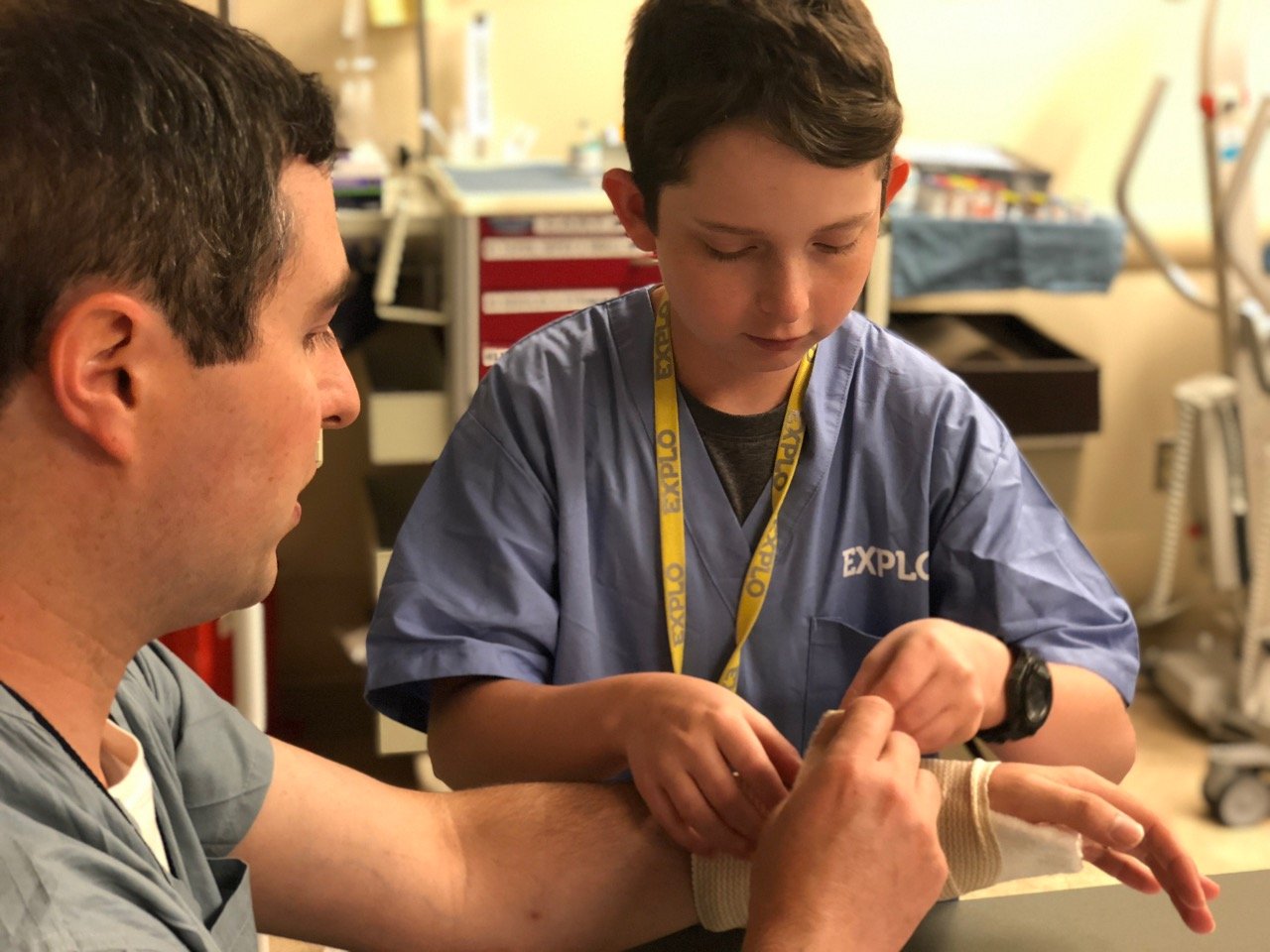 Shifting away from EXPLO — can I ask about the spark that got you initially interested in medicine?
I've been interested in medicine for as long as I can remember. My dad's a surgeon, and I grew up going into the hospital and the operating room (OR), so I knew pretty early on that things were headed that way.
As far as the exact area of medicine, I wasn't totally sure, but I loved being with him and watching him teach his medical students and residents. I loved that he and I could interact about really complicated topics…he could put them into words that I could fully understand.
It sounds like even early on, you were fascinated by the ways we learn.
As I was growing up, being a teacher or coach or advisor started to become increasingly interesting for me. Then, as I was going through medical school, I found the drive to be able to break down complicated topics in a way that people can understand — just as my father did. For me, a really fun challenge [in medicine] is trying to figure out how to explain medical terms that people might not know in terms that they do so that they can better understand what's going on with them or a loved one.
What was your path from there into medical education and simulation?
When I was working as an EMT, we used mannequins to practice basic skills. When I began to do ambulance work, I started working with a couple of different trainers*. Then, during medical school, it finally clicked that the muscle memory, those movements, were already there from my early training, and that's what really drew me into simulation. It also intersected with my interest in psychology, and how humans interact with each other.
Simulation is a safe way to practice patient-physician interactions. At STRATUS, I'm now able to teach medical students and residents, trying to provide the best training possible through all these different educational modalities.
Note from the editor: Task or skill trainers are devices designed to train the key elements of a skill being taught, such as catheterization or IV placement.
So as an educator and a medical professional, what do you think about the benefits of simulation as a learning tool? Is it that it's hands-on, or more about practicing skills in a low-risk environment? Or is it mainly about the psychology pieces?
It's a bit of everything [you described]. First off, it creates a safer environment for our patients. We owe it to them to have our residents get the best training possible before they're the ones responsible for patient care. It's a safer environment for the learner as well.
Medical simulation lets us bring learners into a safe space — whether they're senior-level faculty learning a new procedure, junior-level medical students, or even young students like at EXPLO — to learn and to practice. They can apply their knowledge in real-time. We encourage them to make mistakes in a space where they can learn a significant amount without causing any harm.

That's such an essential space for all learners to be able to live in.
Yes, and as you mentioned, not only does simulation let you practice something you haven't done before, it lets you repeat it and learn from it, going through the cycle of knowledge so that you gain muscle memory and get to a point where it's a rehearsed skill.
"Medical simulation lets us bring learners into a safe space to learn and to practice … We encourage them to make mistakes in a space where they can learn a significant amount without causing any harm."
Sports are a pretty good analogy. You don't just show up on the field or court for a game…you have to practice, break things down into discrete skills, build up to larger scrimmages, and prepare to compete.
As an educator, it's so fun to hear such familiar language around scaffolding and the resonance of an experience being a really powerful way of learning. We talk a lot about the power of interdisciplinary learning as a way of making connections at EXPLO.
Absolutely. In a similar way, we don't just focus on medical knowledge or skills with simulation. We can also focus on team building and interpersonal skills, which is what we do a lot of at STRATUS — focusing on what we call "crisis resource management." We talk about how people are intersecting, how they're talking to each other, how to make conversations more clear and efficient so that better outcomes happen for the patient.
That work has not only involved physicians and teams here, but we're also extending it to think about how it might be applied in other situations, like in space. We're doing some work with NASA to look at how teams communicate and work together there, too.
Note from the editor: In 2016, NASA funded a proposal by Brigham and Women's own Dr. Steven Yule, PhD: "Developing and Validating Specific Medical Event Management Training Protocols for Flight Crews on Deep Space, Long-Duration Space Exploration Missions." So began a fruitful partnership.
In 2020, Dr. Yule, along with Dr. Roger Dias, MD, PhD, MBA, of the Department of Emergency Medicine, was among six research teams selected for funding by the Translational Research Institute for Space Health (TRISH) to support NASA's Human Research Program. The research aims to develop novel solutions to some of NASA's highest-priority concerns around human health during deep-space exploration missions.
Really interesting. Building off of that a little bit to close out, what do you think innovation in this field looks like? And how do teamwork and collaboration play a part in that ongoing innovation?
Sim is definitely thought of as a newer technique in medicine, and it's been really interesting to see how people who trained using older methods respond to what we can do in this space. One course brought faculty-level surgeons and anesthesiologists alongside nursing and OR aids into a realistic environment where they had to move through scenarios of emergencies that can happen in the operating room. It was an experience that allowed them to discuss and debate how they go about doing things — and to make sure that even when unexpected problems occur, they're using the standardized approach and doing everything they can to maximize a good outcome.
"With simulation, we give students an experience — people remember experiences better than facts and stats pulled out of a book or a lecture. Building on those experiences, they can then piece together what they've learned into concrete memories."
Beyond that, the simulation labs are a genuinely fun space to think about new devices and innovating in education, but also in patient care. So we'll often have people come and bring new approaches, new tools, new devices down to the center first, have people practice with them, give feedback even, but also just come down here to learn how to use those skills and tools even better.
I think the next big wave in simulation uses virtual reality or augmented reality. People will be able to put on a pair of goggles and have a fully simulated, interactive environment in front of them and around them, where they can once again practice procedures and communicate with other learners as a team, even when they're very far apart.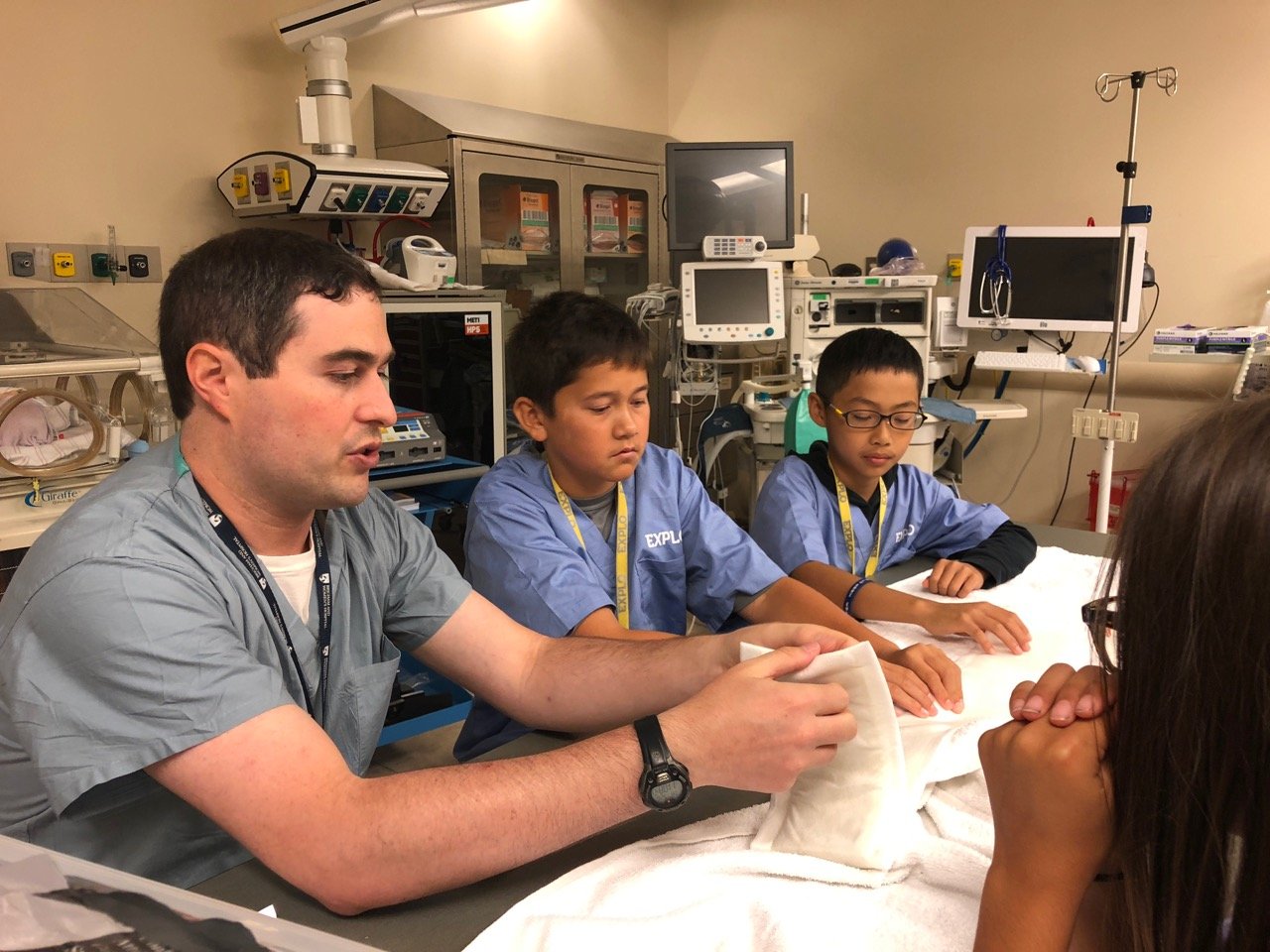 We're always grateful to hear about the amazing work our staff alums are doing — and for the many ways they continue to keep the EXPLO community in lockstep with future innovations.
Medical simulation is a fantastic example of immersive, experiential learning at a highly advanced level. At EXPLO, learning through exploration is at the core of everything we do. With hands-on, immersive curricula at every level, our students can create concrete memory blocks that stick. And when they're given the opportunity to learn by doing, make mistakes, and build on their knowledge brick-by-brick, they better understand the divide between theory and practice.
To learn more about experiential education, subscribe to our newsletter below.