Our students know and love him as Sam the Assembly Man, the teacher who transforms campus-wide gatherings into epic events of opera singing, games, dancing, and fun. We know him as a truly compassionate, talented, and creative educator who shares his passion for art (he's currently studying sculpture at the New York Academy of Art) and his love of learning with our students. We've been thrilled to have such a seriously talented artist among our ranks.
Where are you in your life now?
I am focused on my Master's thesis. Typically, I find a healthy balance between working in the arts, enjoying the variety of New York City nightlife, and learning for the enjoyment of learning. However, that balance has been pleasantly overrun with ambition and unknown complications involved with creating my Master's thesis. It is and will continue to be a process peppered with moments of emotional bliss and excessive discouragement. But in the end, it's the journey that fulfills me, and more importantly, the work and ultimately its audience.
How did you come to hear about Explo?
I heard about Explo through my college roommate, who had stories upon stories. The next summer, I applied and was accepted to teach at Explo at St. Marks. I am grateful to Explo at St. Mark's, as it has forever enlightened me in one very special way. I have always wanted to — and still intend to — teach at the collegiate level, however, teaching ages 9 to 12 gave me insight on how willing and impressionable students are at that age. Seeing enjoyment in a student's face or attitude produced from something they have never partaken in before, such as painting or drawing, was a new experience for me, and one that will not be forgotten. It has changed my mentality towards my potential future in academia.
After hearing about everything you'd be doing at Explo — and how hard you'd be working — what prompted you to apply?
I find myself laughing a little bit here. Initially, I am certain I was blinded by how appealing and how generally fun Explo sounded. I couldn't fully comprehend the physical and mental prowess needed until actually being at St. Marks. Regardless, I viewed it as another unknown challenge in life for me to conquer. For years, I have been reciting this silly quote from some movie or book, which I honestly cannot remember, "the sweet isn't as sweet without the sour." In short, applying to Explo I understood that — like in the arts — at the end of a long hard day, week, or month, some surreal fantastic experience would be your reward.
There are bottle caps flying from chemical reactions, students learning to dance while palm reading, or teachers and students riding newly built hovercrafts through the gym, all of which are being captured by the drawing and photography courses. With so many distinctly different environmental pockets often at some point working with one another, it's easy to be filled with energy.
What was your experience like working at Explo this past summer?
Working at Explo requires extreme amounts of energy, but it simultaneously gives you that energy. The staff, the students, and most impressively the collaboration between the two create these pockets of environment all over campus. There are bottle caps flying from chemical reactions, students learning to dance while palm reading, or teachers and students riding newly built hovercrafts through the gym, all of which are being captured by the drawing and photography courses. With so many distinctly different environmental pockets often at some point working with one another, it's easy to be filled with energy. I was fortunate to be the Assembly Man, Main Events Coordinator, and Task Manager this summer, and devoted myself to supplying the student body with the same range of experiences they receive in their day-to-day life at Explo. As the Assembly Man, I would seek out my co-workers to be on stage, to show the students' special talents such as Opera singing, gymnastics, juggling, speaking multiple languages, improv, and far too many more to recite. I know the stage was one of the many pockets of environment created on campus, and I loved that I had a big role to play there.
Were there any moments in particular that stood out for you, above the rest?
There are a few special moments for me but one that is profoundly above them all. Last summer, I taught an ESOL painting course. I taught two Chinese boys, two Chinese girls, a French girl, and two Venezuelan girls, many of whom had never painted. On the final day of class, the students were sad to say goodbye to each other and to our time together. One of the girls ran to me sobbing, she hugged me and told me the class helped her, it was the best class she had taken, and that she wants to become an artist. Despite the tears, she was very happy. I felt accomplished and wholly appreciated. It was that moment I realized how willing and impressionable the age group at Explo at St. Mark's is. It changed the way I think and feel about teaching different ages in academia.
What would you consider your greatest achievements/rewards from the summer?
It was a huge reward hearing the students talking about a main event I organized. This summer, I lead my office in organizing a brand new main event, involving several 10-foot inflatable beach balls, Jenga blocks, tennis balls, balloons, dice, pies, a massive parachute and more. The event was essentially a series of mini-games, many of which directly involved these giant beach balls. The idea of the event was to let the students compete and enjoy several different games of dexterity and team spirit that would be either impossible or highly unlikely in their regular day-to-day life outside of Explo. I knew it was a success when I overheard students cheerfully debate between which was the coolest: hitting the giant beach ball with a pie or racing with a tray of juice.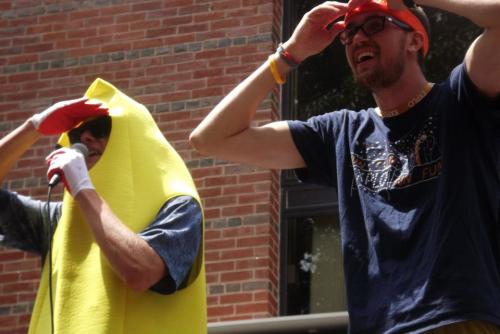 What would you consider your greatest challenge(s) — and your greatest inspiration(s)?
My greatest challenge was to reach every student at Explo. The fact is, Explo at St. Marks students are from varying cultures, they speak different languages, like different foods, find some things funny that other students may think is morally wrong. In all aspects of my job I tried to overcome language barriers and involve different subjects of interest on stage and during main events (music, science, food, animals, etc). My inspirations are my mother who amazingly raised two boys and studied to receive her college degree while working as Vice President of Business Relations at Advocate Health Care and my father, who fought cancer and lived for eight years when he was told six months. As well as an increasing list of writers, musicians and artists such as Pyotr Ilyich Tchaikovsky, Luciano Pavarotti, Franz Messerschmidt, Auguste Rodin and more.
What (if any) lessons/skills/life lessons did you learn during your summer working at Explo?
This past summer I worked in a position where I both had a boss and was the boss. In both situations, the success and creation of a constructive working environment stems from communication and equality. Treating all co-workers with the same respect is an elementary lesson, but perhaps it is taught to us in our youth because of its extreme importance! Further, I know the majority of my co-workers were comfortable with giving feedback and expressing their opinions. In an environment where communication is so regular, ideas are positively fed upon one another until some ultimate goal is reached and successfully delivered to the student body. It all comes from communication.
What skills/life lessons do you feel you brought to your experience at Explo, and to the people — and children — you worked with?
I brought two essential skills to Explo. The first being "out of the box" critical thinking. As an artist, I enjoy delving into the dicey, the unknown, and the experimental. It's the uniqueness of my mind and the minds of my co-workers that facilitate learning through discourse and discovery. The other essential skill would be positive energy. We are human, and work and school is not always easy. In fact, it is often tiring. Sometimes a co-worker or student might just need a little positive energy to rejuvenate them or get them through a tough moment, and I am there to give my energy.
During Explo's "off-season," you are studying sculpture at the New York Academy of Art. Your sculptures are incredible. Tell me, how did your passion for art develop?
As far back as I can remember, I have been drawing. My passion developed around the time I was thirteen. My uncle, who I was very close with, suddenly died of cancer. This was my first experience dealing with mortality regarding an influential figure in my life. A few months, later my father was diagnosed with stage three terminal cancer. I had many questions and almost no comprehensible answers. I was angry and sad. My drawings progressed into narratives and novel stills about my father and myself. My work was an emotional release and for its audience it was insight.
From looking through your site, I've noticed just how original and evocative your sculptural style is. How do you choose your subjects and the ways in which you portray them?
My fixation originated with studying the bronze casting process at the University of Michigan as a freshman. I indulged in clay work, waxwork, casting, welding, and actually physically pouring the molten bronze. The process involves so many opportunities for change and transition in a piece, layering it with complexities in form and feeling. It is an understatement to say the choice of medium is relevant in sculpture, how the physical fragilities of things like wax and plaster vs. the sturdiness of metal, stone, and resins play a part in the psyche, the mental and emotional feelings received. Like my medium choice, the style in which I sculpt, my subject, and composition all stem from either the original idea or a mutation of the idea developed during the creative process. Everything has its purpose, the sculptural surface, scale, medium, ambiguity vs. clarity, naked vs. nude, and the list goes on. In this regard all of these elements are considered and often altered from piece to piece to aid the viewer in interpreting an intended reaction or message.