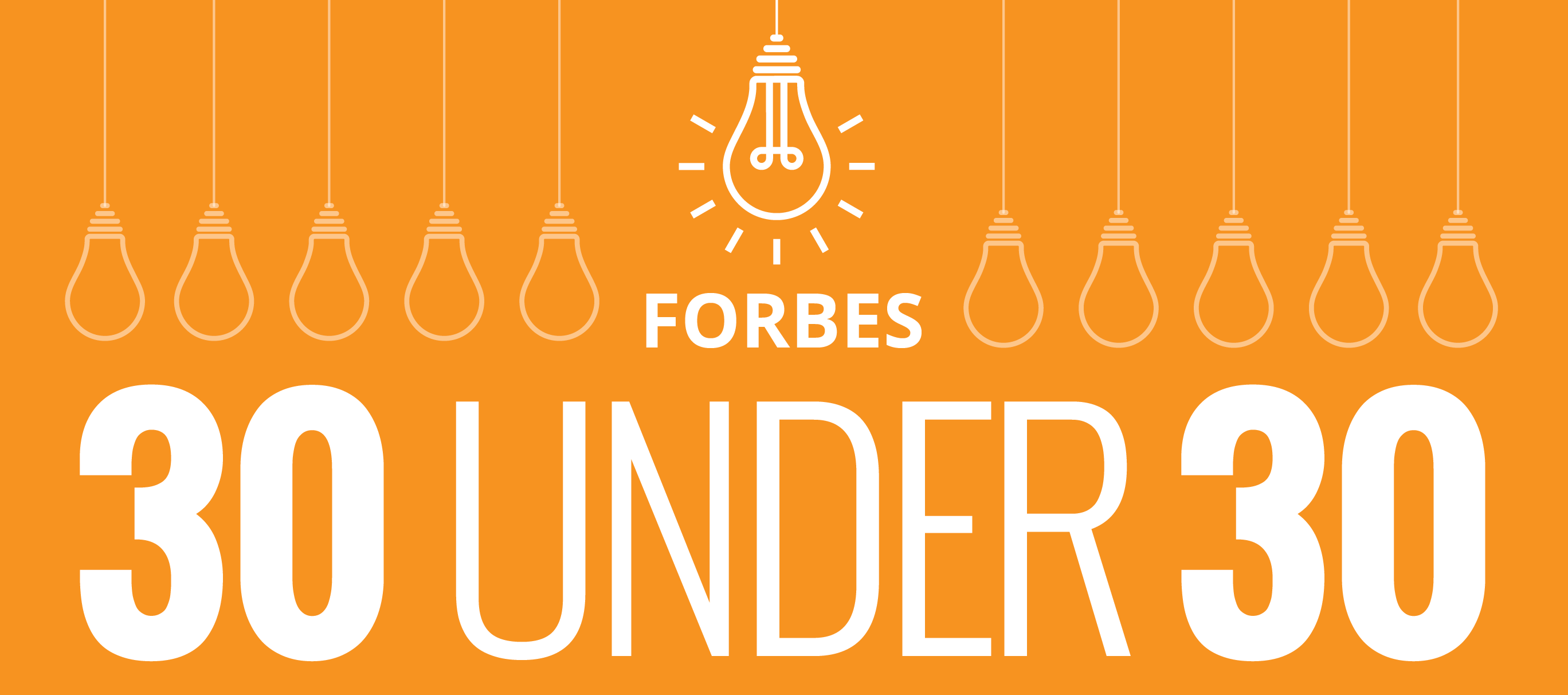 Every year, the editors at Forbes Magazine feature individuals who are the most innovative in their fields in their 30 Under 30 issue. To date, 30+ EXPLO Alums are among their number. To them, we'd like to offer our most enthusiastic congratulations! We'll introduce each of them below (and revel in the fact that we knew them when...).
Art + Style
Sarah Law, Handbag Designer, KARA (2016)
In just three years, Sarah Law has turned a nascent label into a global brand. KARA bags are now carried in 50 different stores in 15 countries around the world. The name KARA, taken from the Japanese word Karaoke, means "empty orchestra."
Education
Jessica Gartner, CEO + Founder, Allovue (2015)
Jessica Gartner founded Allovue — and its flagship app, Balance — to help schools monitor fiscal waste by tying educational spending to student performance. A former educator in Baltimore, Gartner wants to make sure schools spend their funds where they're needed most.
Energy
Dakin Sloss, Founder, Tachyus (2016)
Monitoring the energy output of the oil and gas industries is a gargantuan task. Dakin Sloss has built a software system that "combines machine learning with physics-based modeling to inform operators how best to engineer their wells—where to drill, how much to drill and using what method."According to Sloss, his software is already boosting production by 20%, and he's already raised $20 million in venture financing. Since 2013, Tachyus' software has increased the output of 6,350 wells in 13 fields.
Enterprise Tech
Max Bennett, Cofounder, Bluecore (2017)
A former Goldman Sachs trader, Max Bennett's successful startup Bluecore aims to make consumer behavioral data more actionable and easier to understand for commerce organizations. With retailers like Nike, Gap, and Staples on their roster of 300+ retailers, Bennett and company have raised nearly $28 million from investors since their launch in 2013.
Jay Kaplan, Cofounder, Synack (2015)
Jay Kaplan is working to help companies squash security threats before they happen. Through Synack, which he cofounded with Mark Kuhr after leaving a position with the NSA's counterterrorism division, Kaplan aims to reduce the cyber threats companies face.
Daniel Kimerling, Cofounder, Standard Treasury (2015)
With Standard Treasury, a startup he founded with Zachary Townsend, EXPLO alum Daniel Kimerling wants help companies do business. By giving companies the tools they need to streamline their financial services, Standard Treasury helps companies bring their banking needs into the 21st century.
Finance
Eli Nagler, Associate, Blackstone Group (2015)
Eli Nagler has made a name for himself in the world of finance. Forbes has named Nagler as "a top equity professional in the world's biggest buyout firm." Nagler serves on numerous boards, including Viva Capital and Bayview Asset Management (2015)
Joan Payson, Equity Research Analyst, U.S. Luxury Goods, Barclays (2015)
Joan Payson first started making waves when she "made a bearish call" on Michael Kors. Payson is the head of Barclays luxury stock research group.
Food + Drink
Adam Belanich, Cofounder, Joyride Coffee (2015)
It began as a food truck. But now, Joyride Coffee, cofounded by Adam Belanich and his brother Noah, is the top distributor of such renowned American coffee roasters as Intelligentsia and Stumptown. Thanks to their love of good coffee, Belanich wants to rid the world of Keurigs and get as many people drinking quality coffee as possible.
Healthcare
Ian Cinnamon, Director of Strategy, Immunity Project (2015)
The Immunity Project, a non-profit, is working on developing a free vaccine to eradicate HIV and AIDS. Ian Cinnamon is helping the Immunity Project make that happen by organizing a crowd-funding campaign and winning funding from Y-Combinator, a firm that helps to incubate and nurture startups with seed funding and mentorship.
Most kids graduate college and think that they need to know what they will be doing in five years. Don't focus so much on that. Look for a place that has smart people working there and people who will be invested in your progress. Look to go where you can learn, and have the confidence to fake it until you make it a bit and be ready to learn from the people around you." — Caitlin Donovan
Law + Policy
Kendall Tucker, Founder + CEO, Polis (2017)
Kendall Tucker's startup Polis has been improving mobile canvassing and in-person analytics for more than 70 organizations — including Governor Gary Johnson's presidential campaign. Tucker has long been involved with the political process, running state legislative campaigns and holding local office prior to launching Polis in October 2015.
Media
Kendall Dabaghi, Cofounder, A Plus (2016)
Kendall Dabaghi cofounded A Plus, a positive social media organization, along with Ashton Kutcher and fellow Forbes 30 Under 30 winner Evan Beard. Initially launched in Kutcher's house in April 2014, A Plus employs 31 people and is expecting to bring in $8 million in revenue in 2016.
Amanda Gutterman, Cofounder, Slant (2016)
When Amanda Gutterman helped launch Slant — and its 70% revenue share model — she wanted to make sure that talented writers and journalists were actually getting paid for their work. With 2 million unique visits to the site so far, writers are definitely starting to earn their fair share.
Mark Gurman, Senior Editor, 9to5Mac (2015)
Mark Gurman made sure to come into this world with a bang. Born during an earthquake, Gurman began working for 9to5Mac after he located domain names that Apple had registered for its upcoming (and as-yet unnannounced) tablets. This was 2009, and Gurman was still in high school.
Retail + E-Commerce
Candace Mitchell, Cofounder, Techturized, Inc. (2016)
With cofounder Chanel Martin — a fellow black woman engineer and Georgia Tech grad — Candace Mitchell is using technology to revolutionize the $3 billion African-American haircare market. First up: Myvana, a mobile app that's a 'concierge' for black haircare, connecting clients with stylists and encouraging community through photo-sharing and tips.
Gemma Sole, Cofounder, Nineteenth Amendment (2016)
The clothing line Nineteenth Amendment promises to match emerging designers with shoppers, offering 19-day pre-sales and only producing what sells. The startup, which was part of the first class of New York's Fashion Tech Lab, is sponsored in part by the city and was cofounded with fellow Forbes 30 Under 30 winner Amanda Curtis.
Caitlin Donovan, Associate VP, Handbags and Accessories Category, Christie's (2015)
Caitlin Donovan built the Handbags and Accessories Category at Christie's, the world's largest auction house, from the ground up. Donovan, 27, is also responsible for widening Christie's audience by selling luxury accessories through an online shopping platform.
Isabelle Kenyon, Associate, Burch Creative Capital (2015)
In her role as an Associate at Burch Creative Capital, Isabelle Kenyon helps bring new creative ventures to light. The most notable projects she's shepherded include BaubleBar, the Fashion Project, C. Wonder, and E.D. by Ellen DeGeneres.
Science
Max Mankin, Cofounder, Modern Electron (2016)
Max Mankin is the founder of Modern Electron, a startup that seeks to overturn 100 years of history in generating electricity, replacing steam turbines with small, modular devices that convert heat to electricity. The company has raised $11 million so far.
Eran Hodis, MD + PhD Student, MIT + Harvard (2015)
After his mother was diagnosed with cancer, Eran Hodis switched from studying yeast to studying cancer. Through his efforts, we now know which gene mutations are among the most common across different cancers — and what chemical process transforms those cancer cells into near-immortal beings. Hodis, who now works at the Broad Institute of MIT and Harvard, is lauded for his work as a cancer researcher.
Social Entrepreneurs
Noam Angrist, Founder, Young 1ove
Noam Angrist is a research-loving social entrepreneur whose work has brought him to Botswana where he leads Young 1ove — a nonprofit organization that has provided evidence-based HIV health and education classes to more than 35,000 Botswanan youth. Their flagship program has proven to reduce pregnancy — a proxy for unprotected sex and HIV transmission — by nearly a third.
Anna Stork, Cofounder, LuminAid (2016)
According to Anna Stork, about 1.1 billion people lack access to electricity worldwide — a problem only exacerbated by natural disasters. Partnering with clients like Doctors Without Borders, LuminAID's solar-powered packs inflate into portable lights, and are used in relief efforts after tragedies like the Nepalese earthquake. They're also popular with individual customers for camping and first aid.
Gayatri Datar, Cofounder, EarthEnable (2015)
Gayatri Datar, 29, wants to keep people safe from the types of parasitic infections that come from living and walking on dirt floors. EarthEnable's mission is two-fold: install 20,000 floors throughout East Africa by 2019 (101 were installed in Rwanda in 2014), and hire local masons to do the work. Datar was also nominated for a Legacy Prize by the Creativity Foundation.
By Lisa Merlini